Progressive MICC Overview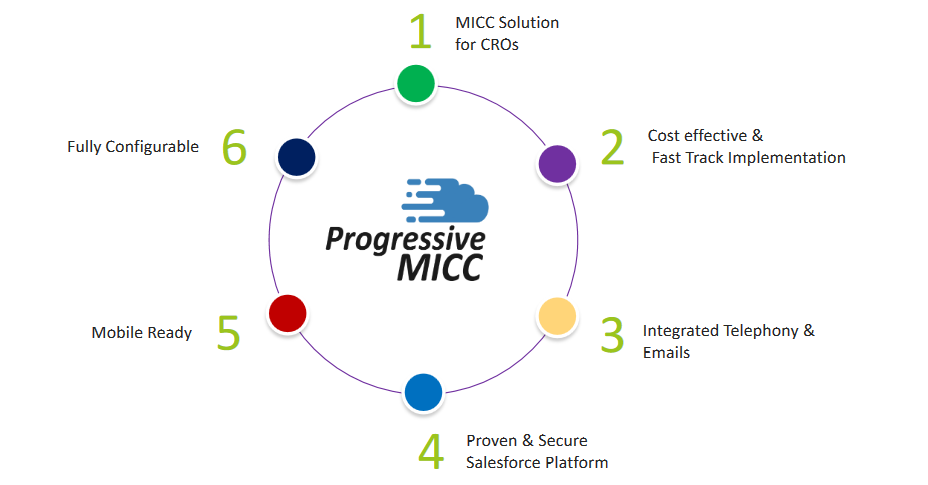 Why is Progressive MICC Unique?
The most innovative solution, built by and for MICC & PV experts
Progressive MICC is the only Medical Information Contact Center solution designed especially
for Clinical Research Organizations
The only solution which is fully GDPR and PII complaint. Since source of truth for Every Data (Call
Records, Voice Recording, Outgoing & Incoming emails, source documents, literature references)
resides on Salesforce cloud
The only global solution to include Safety Mailbox as well as in-built Phone Systems with
multiple global Toll and Toll-Free call numbers
Highly Configurable, developed and hosted on Salesforce cloud
Designed for seamless intake of Safety Adverse Events, Product Complaints and Medical
Inquiries
Multi-lingual intake in over 35 languages
Integrated with Argus, ARISg, PV SafetyEasy and other Safety Databases
Optionally, leverage AI Intake capabilities part of Progressive Next
Effortless and secure access of data to Sponsors and Sales executives outside the system
Distribute and track reports using E2B, CIOMS, MedWatch and other custom multi-lingual report
forms
In-built Interactive Voice Response (IVR) and Automated Call Distributor (ACD)
Multilingual Letter Templates
Configurable AE and Product Complaint Forms
Integrated Email Communication
Interactive Reports and Dashboards
Advanced IVR and ACD System
Available on Android & iOS Mobile Devices
Call Center & Agents Setup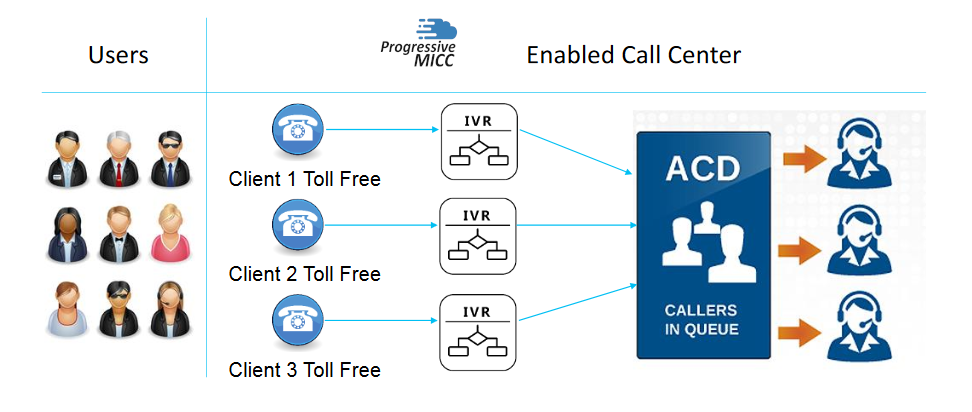 Progressive MICC features advanced configurable interactive Voice Response System which can be used for welcome messages, waiting messages and for reaching to desired agent in the call center.
Automated Call Distributor is another advanced feature which automatically finds the most appropriate agent in the queue and transfers the inbound call to that agent. Super easy to manage any number of agents.
Advanced Calling Features
International Toll & Toll-Free Numbers

Progressive MICC features the instant procurement of international Toll & Toll-Free numbers within the application.
Procured numbers can be assigned to IVR or agents immediately.
Call Recording

The system provides advanced call recording options for inbound & outbound calls.
Recordings are stored in secure cloud and can be accessed from with the application.
Can be turned on and off as required.
Conference, Hold and Call Forwarding

Progressive MICC features Conference Calls with multiple users.
All the standard features like Call Hold and Call Forwarding is available to each agent in the dialer itself.
Progressive MICC has integrated mailbox which works like any other email agent without leaving the application!
Secure
As all the email communication is done within the application, you are ensured about the data safety.
No need to move or copy data from external sources. This includes the medical documents which can directly land inside Progressive MICC.
Full Mailbox
Progressive MICC inbox provides you all the features of any other email agent like HTML content support, CC and BCC fields.
Email Attachments are easy to send through inbox. Also all the attachments of inbound emails can be easily downloaded/previewed.
Sorted
All the emails are automatically sorted out in the system. The emails become conversation threads where all related emails will be parked.
Related emails can also be found under the associated data form of Adverse Events, Product Complaint or Medical Information.
Interactive
The dashboard has many interactive charts and reports which can be clicked, and a detailed report can be viewed.
Analytics
The dashboard shows all the analytics for inbound and outbound calling.
It shows agent wise calling data, attended and missed calls.
Agents productiveness.
Subscription
All the reports in Progressive MICC can be subscribed by the users.
Daily, weekly and monthly frequency of subscriptions.