OUR SERVICES
ABOUT
NEXTROVE

Nextrove is a global professional services firm focused exclusively on serving Pharmaceutical and Biotech organizations. We take pride in being the only consulting firm to assist clients with PV, EQMS, RIM, Regulatory and Clinical Affairs, Salesforce, and Integration services. Our mission is to deliver preeminent and innovative solutions that enable the global Health Science industry to improve public and patient safety.
With a team present globally in the US, Canada, Israel and India that has an average experience of 12+ years in PV, Regulatory, QA, EQMS and MDM, we have helped our clients meet project timelines, effectiveness and cost targets in a variety of engagements.
The combination of our business knowledge and technical skill-set allows us to bridge the gap between business needs and technology to meet and exceed the expectations of our clients.
PHARMACOVIGILANCE
We offer complete solutions with a business-centric and problem solving approach ensuring regulatory compliance, maximizing application output and minimizing operational challenges.
Japan Practice
We have a dedicated Japan practice of bilingual consultants that have deep knowledge of PMDA requirements and a strong track record of implementing safety solutions for Japan.
INTEGRATION
We offer a myriad of integration services that allow for greater collaboration and reduced inefficiency throughout your enterprise system. Our team has extensive experience performing complex integrations between PV, clinical, regulatory, and product quality databases.
TRACKWISE
For increased efficiency and ensuring reliable pharmaceutical product quality management, we provide state-of-the-art TrackWise consulting including advisory, business process, system implementation, integration and support services.
SALESFORCE
Our dedicated Salesforce team is a one-stop for all of your Salesforce needs, offering a complete range of services from implementation, custom development and migration to integration and support.
VEEVA VAULT
We provide Veeva implementation services including advisory, process design and improvement, implementation, data migration, integration and managed support services.
PRODUCTS
At Nextrove, we have created cutting edge and imaginative products for the pharma industry. Our goal in providing these products is to lighten the load on case processing resources and make system information more easily accessible.
Progressive Next
ProgressiveNext is a robust collection of cloud applications for Adverse Event Intake and Reporting with advanced A.I. enabled modules.
Get Information
R3Extend
R3Extend
R3Extend is our solution to handle the new ICH E2B(R3) requirements for China's NMPA as well as the FDA's combination product requirements.
Get Information
PVMigrate
PVMigrate
A fully customizable framework which allows for robust E2B+ migrations without data loss that also allows for review and validation of migration data.
Get Information
Progressive MICC
Progressive MICC is full featured product with in-built telephony to capture ADR, Product Complaints and Medical Information
Get Information

ClinConnect
ClinConnect
Nextrove has developed a system agnostic EDC (Electronic Data Capture) integrator, ClinConnect, that can integrate Argus with any EDC system.
Get Information
PVSanity
PVSanity
A standalone solution that can analyze data or configuration issues in the system due to legacy data, migrations or backend updates.
Get Information
Progressive CONVEY
Progressive Convey is advanced safety document distribution system with inbuilt compliance for countries around the world.
Get Information
GRRACE
GRRACE
Global Reporting Rule and Audit Capture Engine (GRRACE) allows a user to dynamically select the areas for which audit information is required.
Get Information
RapidPV
RapidPV
Suite of pre-validated tools and accelerators used to expedite client's on-premise or cloud hosted Argus Implementations to take as little as..
Get Information
WHY CHOOSE US
Innovative, Long-term Solutions
We provide solutions that can grow and adapt with your business for long-term success
Unrivaled Domain and Technical Expertise
With 12+ years of average experience and over 200 completed projects, our consulting teams are proven in battle.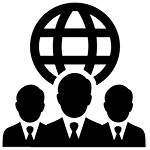 Global Team
Through our global team of experts, we are able to provide comprehensive 24/7 Tier 2 and Tier 3 support.
OUR CORE COMPETENCIES
Safety IT Standards
21 CFR Part 11
ICH R2/R3
HL7
ICD9, ICD10
HIPAA
EVMPD & xEVMPD
IDMP
Health Sciences Applications
Oracle Argus Safety
Veeva Vault Safety
Oracle Clinical
Oracle Siebel CTMS
Oracle LSH
Safety Easy PV
Value Added Solutions
Safety – Trackwise Integration
Safety – Siebel CTMS integration
Primo – Argus Integration
Safety – Oracle Inform Integration
OUR ALLIANCES