21 July 2021, United States
Nextrove, LLC and ETL Pharmacovigilance Center Announce a Collaboration to Expand Their Clinical and Pharmacovigilance Practice in the CIS Regions
Nextrove LLC is excited to announce its newest partnership with ETL Pharmacovigilance Center! Both organizations bring several years of Clinical and Pharmacovigilance experience. This partnership strengthens both organization's commitment to Safety and expands their expertise.  The partners believe that the dynamic exchange of knowledge and information strengthens patient safety for Health Science organizations all over the world. As both organizations grow and expand, they can stay nimble and flexible. Assuring both stay on track with their mission; to ensure the safety and well-being of patients and the public through continuous safety surveillance of human medicines from the one hand, and to deliver preeminent and innovative solutions that enable the global health science industry from the other, and toward the ultimate goal-to improve public and patient safety worldwide. This strategic partnership expands mutual global reach. With presence in the US, Canada, Japan, China, Europe and India we can now add the CIS Countries with this new partnership.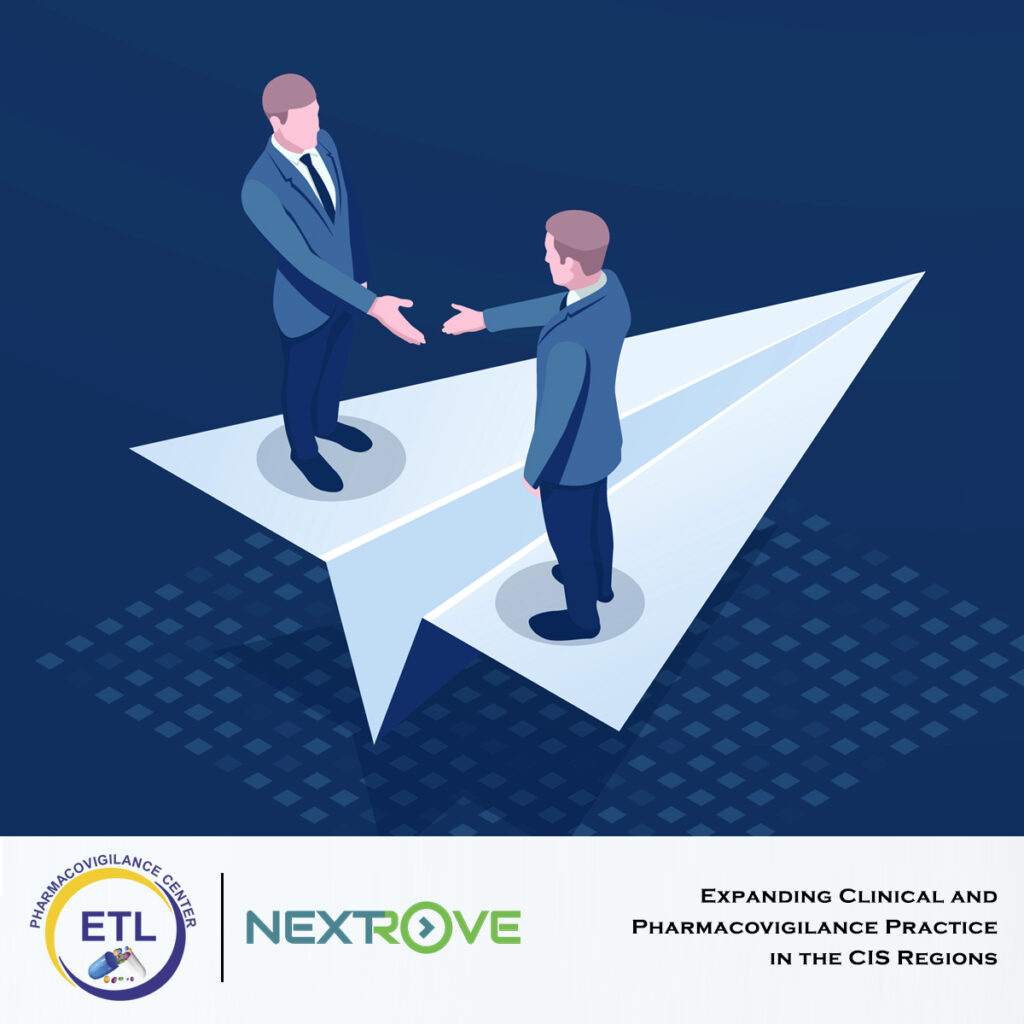 About Nextrove
Nextrove is a global professional services firm focused exclusively on serving Pharmaceutical and Biotech organizations. We take pride in being the only consulting firm to assist clients with PV, EQMS, RIM, Regulatory and Clinical Affairs, Salesforce, and Integration services. Our mission is to deliver preeminent and innovative solutions that enable the global Health Science industry to improve public and patient safety.
With a team present globally having an average experience of 20+ years in PV, Clinical, Regulatory, QMS, Hosting and Commercialization, we have helped our clients meet project timelines, effectiveness and cost targets in a variety of engagements. The combination of our business knowledge and technical skill set allows us to bridge the gap between business needs and technology to meet and exceed the expectations of our clients.
About ETL Pharmacovigilance Center
We are a group of enthusiastic professionals offering a full range of dedicated pharmacovigilance (PV) and risk management services globally starting from drug early development and till post marketed drugs' safety surveillance and risk management. We are working in compliance with regulatory requirements all over the world. Our delegation is to ensure the safety and reliability of pharmaceutical products, medical devices, cosmetics, regenerative medicine products, etc.
Our geographical location and time zone allow us to strategically build a bridge across Europe and Asia and to ensure uninterrupted services. Our language capabilities are Russian (second native) and English as a must.